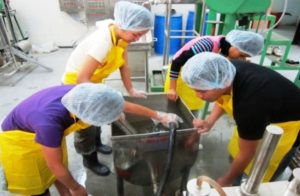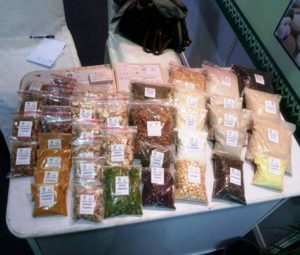 Department of Process and Food Engineering – This department conducts teaching, research and extension education activities on subjects related to engineering properties of biological materials, qualities of food products, operations and equipment for processing, preservation, storage, value addition, material handling, packaging, dairy engineering, structures etc. The department offers 43 credit hours courses in B.Tech. (Agril. Engg.) Programme and is mainly responsible for B.Tech. (Food Tech.) programme in which it offers 80 credit hours courses.
Department of Process & Food Engg., C.A.E.P.H.T.- cadre strength sanctioned
| | | | |
| --- | --- | --- | --- |
| Professor | Associate Professor | Assistant Professor | Total |
| 2 | 3 | 8 | 13 |
a) Teaching staff-
Sl. No.
Name
Position / Designation
Qualifications
Experience of teaching & research
1
Dr. R.P. Mishra
Professor & Head of Dept.
B. Sc. (Ag. Engg.), M. Tech (Crop Process Engg.), Ph. D (Engg.)
40 years
2
Dr.Sujata Jena
Associate Professor
B. Tech. (Agril. Engg.), M. Tech. (Post harvest Engineering), Ph. D. (Food Engg.)
10 years of Teaching experience

Research area: Drying and Value addition of horticultural crops and spices.

3
Dr. B. K. Singh
Assistant Professor (S.S.)
B. Tech. (Agril. Engg), M. Tech. (Aqua. Engg), Ph. D. (Aqua. Engg)
16 years
4
Er. A. I. Singh
Assistant Professor
B. Tech. (Agril. Engg), M. Tech. (Post HarvestEngg.)
13 years
5
Er. NanditaSen
Assistant Professor
B. Tech, M. Tech
6 years
6
Dr. M. Chanchan
Assistant Professor
B. Tech, M. Tech, Ph. D
1 year
7
Dr. Said Prashant Pandharinath
Assistant Professor
B. Tech (Agril. Engg.), M. Tech. (Post Harvest Process and Food Engineering), Ph. D. (Post Harvest Process and Food Engineering)
02 years

8
Er. Rajiv Pradhan
Assistant Professor
B. Tech (Electronics & Communication Engineering),     M. Tech (Applied Nanotechnology)
6 years
b) Non teaching staff-
Field cum Lab Assistants (FCLA)- 4
Multi-Tasking Staff (MTS)- 3
Overall facilities under the Dept. of Process & Food Engg.
Pilot plants for experiential learning,
Unit operation lab.
Food analysis lab.
Process engg. lab.
Dairy engg. lab.
Electrical/Electronicsengg. lab.
Rise mill.
Farmers' produce processing centre cum Skill development centre.
Pilot Plants for Experiential Learning
The college has established the following pilot plants to facilitate 'Hands-on' training and experiential learning of students and for demonstration/training of other interested stake holders.
Prototype production workshop for manufacturing of improved hand tools and farm equipment.
Modern poly houses.
Modern rice mill.
Semi-automatic dal mill.
Oil seed processing plant.
Modern milk processing plant.
Modern fruits & vegetables processing plant.
Aroma recovery plant for horticultural products.
Seed processing plant.
Extruded products processing plant.
Essential oil extraction/steam distillation plant.
Mini solvent extraction unit.
Soybean processing plant.
Mobile animal feed block making plant.
Farmers' Produce Processing cum Skill Development Centre
The centre was established during 2015-2016 in collaboration with the Govt. of Sikkim with an objective to train farmers, entrepreneurs, scientists and other stake holders in the operation of machines related to processing of crops, horti-crops, bakery, and other food/fruit products. Furthermore, farmers and entrepreneurs may bring their produce to the centre, process it themselves (under the technical supervision of C.A.E.P.H.T.) and market it or use it for individual consumption. In order to make the farmers self-reliant and empower them with relevant agri-technologies, space has been provided in the Agri-Processing Centre of the college for marketing of their products processed at the centre. The state govt. has sponsored 25 demonstrations in 11 machines of the centre for the year 2016-17.
The centre houses the following units:
Ginger processing unit.
Turmeric processing unit.
Potato processing unit.
Vegetable processing unit.
Bakery unit.
Noodles unit.